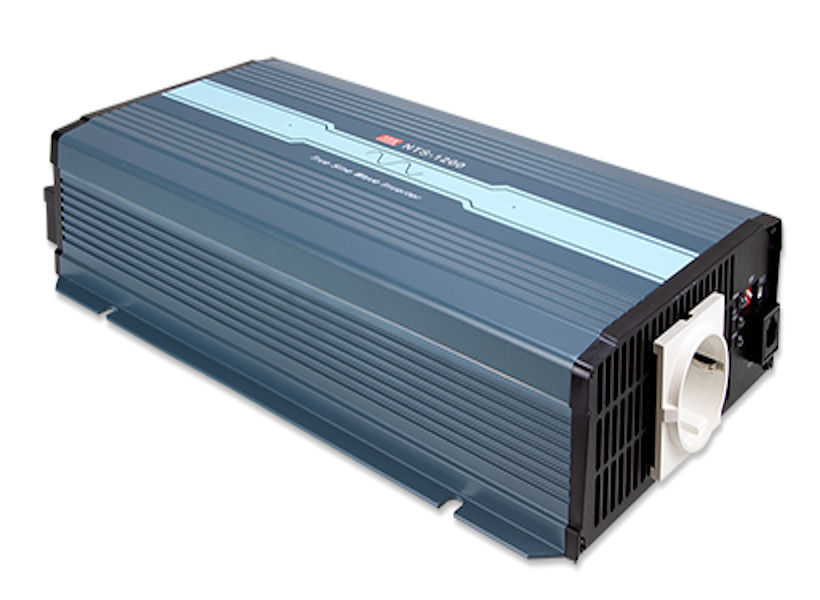 NTS/NTU-1200 Series – 1200W Reliable, Safe, and Durable DC-AC Pure Sine Wave Inverter
NTS/NTU-1200 Series – 1200W Reliable, Safe, and Durable DC-AC Pure Sine Wave Inverter
Since this March MEAN WELL launched the NTS-250P/400P, NTS-300/450, NTS-750 series of DC-AC
pure sine wave inverters, now MEAN WELL is proud to present the NTS/NTU-1200 series of 1200W
external portable enclosed inverters. The new NTS/NTU-1200 replaces the old generation of TS-1000 series
and brings about improvements such as the incensement of 200W with the smaller case size, easier operation
of panel functions, optimized performance, more competitive pricing. The NTU-1200 series with AC by-pass function
allows AC mains to directly provide the energy to load without using the inverter's battery.
Please refer to the attached table for details to enable users to understand the differences between the new and old generations quickly.
The MEAN WELL NTS/NTU-1200 differentiates itself apart from general consumer grade inverter
by adopting industrial-grade high reliability, high safety, high quality, and incorporates environmental
protection and high-efficiency conceptual design. It also introduces new digital smart chips and strictly
select construction materials. The main features instant 2000W peak power capability, flexible output
and operation mode adjustment, remote ON/OFF control, multiple intelligent protection
(abnormal automatic shutdown), operation at -25~+70℃, standard Europe/America/China and universal plugs,
short delivery time, international certification, 3 years warranty, and more. It is suitable for use in home/office,
car, yacht, remote areas without AC power grid or mobile AC power supply, UPS application (NTU series only)
and can be used to power TV, computer, mobile phone charging, audio, lighting, electric fan, mobile medical cart, etc.
Download: MeanWell – NTS/NTU-1200 Series