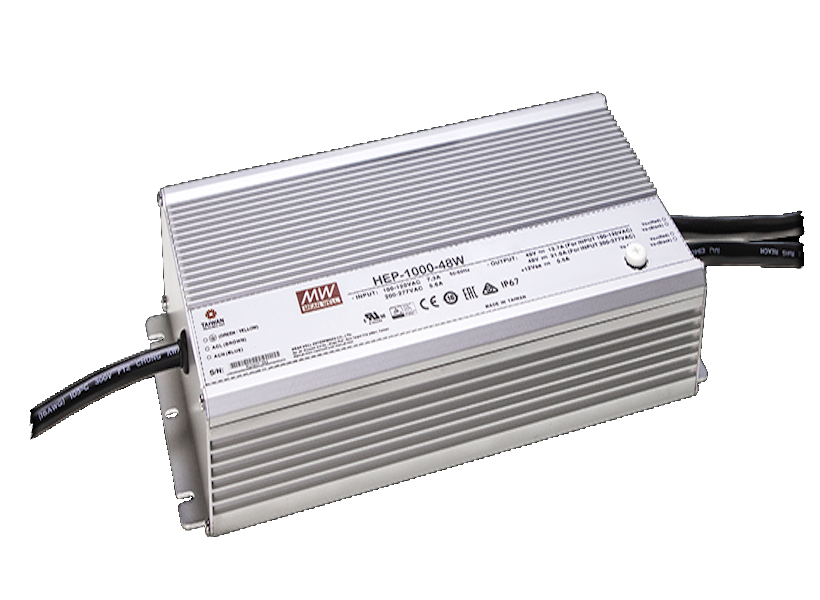 HEP-1000-W Series Wiring Type for Harsh Environment Power Supply.
To provide a complete harsh environment power supply product, MEAN WELL has released new
HEP-1000-W series. The difference between this series and the previous HEP-1000 product lies in
that the input and output adopt the waterproof wires, meeting the IP67 standard. The
specifications allow this power product to be used in outdoor equipment or high humidity/high dust
environments, such as 4G/5G communication equipment, laser machines, and charging related
products.
The HEP-1000-W series is also designed with power supply and charging functions. With programmable voltage and constant current function (PV/PC), by applying a 0~5 DC voltage, the output voltage can be adjusted in a wide range from 50% to 125% and constant current 20% to
100%. Featuring built-in standard communication PMBus and CANBus protocols, HEP-1000-W series
can be integrated into the high-end system seamlessly, making it a controllable peripheral device to
bring several benefits, such as power conservation, easy monitoring, and fast communication. The case design and the firmware functions make HEP-1000-W a perfect fit for digital power management requirements, electrolysis, burn-in equipment, charging equipment, and laser applications.
Fanless and fully-potted design for harsh environment
PFC design and High efficiency up to 96%
Wide working temperature range : -40~+70℃
Withstand 10G vibration test
Built-in 2/3 stage charging curves and programmable curve
Output voltage and constant current level programmable
Protections : Short circuit / Overload / Over voltage / Over temperature
Built-in PMbus and CANBus protocal (optional)
Built-in DC OK active signal and 12V auxiliary power output
6 years warranty
Download: MeanWell – Flyer HEP-1000